DOCTOR AIR 3D Massage Seat Premium MS-002 (Black/Brown/Red) + FREE Relax Chair
Special Price
RM1,449.00
Regular Price
RM1,499.00
Availability:
Out of stock
The 3D Massage Seat Premium features the series' longest* 70-cm massage range to reach every area from neck to shoulders, back, lower back and bottom. It offers an authentic massage experience with four modes: Kneading, Tapping, Shiatsu and Kneading/Tapping.
Create your own relaxation space with a satisfying massage experience
PREMIUM GRADE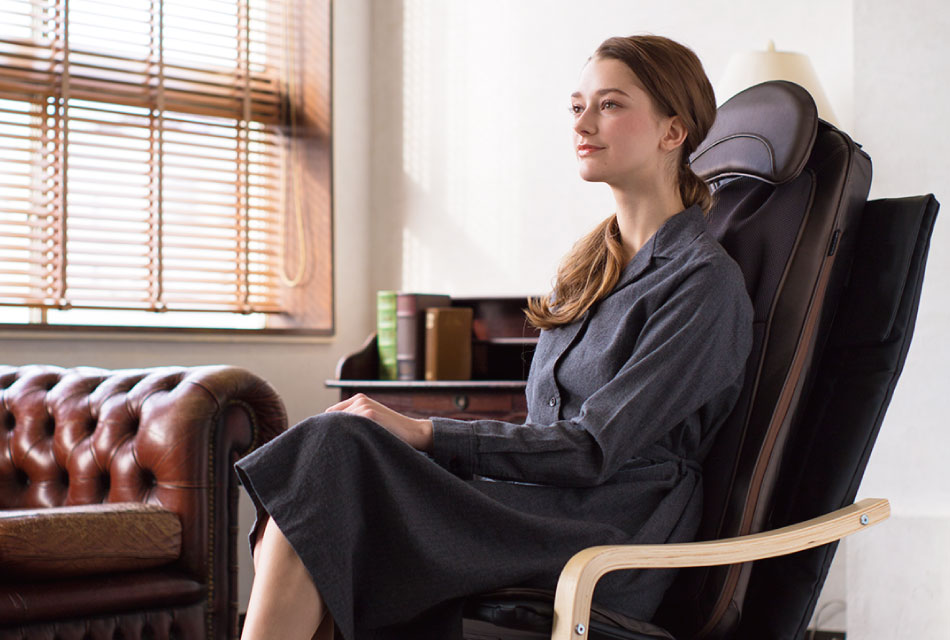 Long massage range for all body types
The shoulder upper limit button establishes the highest point according to your shoulder height, offering a relaxing massage for everyone.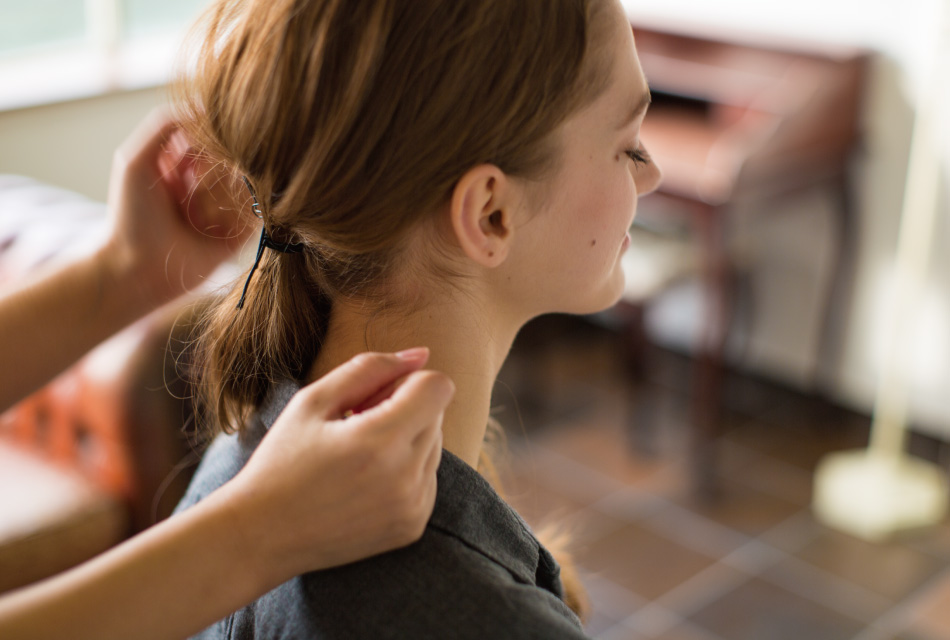 Addition of Tapping and Kneading/Tapping modes
In addition to the original Kneading and Shiatsu, the premium model adds Tapping and Kneading/Tapping. Each mode can be selected for any chosen area, enabling a more authentic massage experience.
Equipped with a full massage chair configuration.
Offers the longest massage range in the series*.
Out of all Doctor Air seat-type massagers, as of July 2017
Authentic, thus Premium.
The seat is equipped with a full massage chair configuration with large 5.5-cm massage rollers and the series' longest 70-cm massage range*.
The shoulder upper limit button allows you to establish the range of the massage area, offering a just-right and relaxing experience for all.
Premium massage experience with four select modes.
MASSAGE-01
Kneading
Smooth movements that simulate human touch for thorough relief of tightness.
MASSAGE-02
Tapping
Rhythmical tapping of the massage rollers for an enjoyable massage.
MASSAGE-03
Shiatsu
Firm pressure applied with the large massage rollers to simulate a human-like shiatsu touch.
MASSAGE-04
Kneading/Tapping
Combination of the smooth kneading function and rhythmical tapping function.
Comfortable vibrations for further relaxation.
The seat portion has three vibration points to effectively release fatigue in the lower body (bottom, thighs, etc.).
Select your preferred massage area.
A light-weight, compact and portable massage chair that makes the home a space for relaxation.
The 3D Massage Seat Premium offers a high-quality massage performance equivalent to chair-type massagers, yet is only 7.35 kg. It is easy for anyone to carry, making it convenient to use anywhere in the home, including your living room. Enjoy a relaxing massage in your usual location, or try a new place entirely.
Personalize your experience.
Specify details like speed and massage area with the remote control.
The remote control features large buttons, an easy-to-read screen, and instantly recognizable massage area options. It is connected directly to the product, which eliminates the need for batteries and uses less power. Try one of the three single-button auto courses, or make detailed adjustments to the shoulder height, tapping position and speed, massage roller range, and more.
Shoulder upper limit buttonEstablish the highest point for your shoulder.
Vibration buttonStart the vibration function.
A luxurious design to fit your home.
The 3D Massage Seat Premium features a mesh material with high breathability, and a premium synthetic leather with a beautiful sheen. The texture feels pleasant against the skin in every season.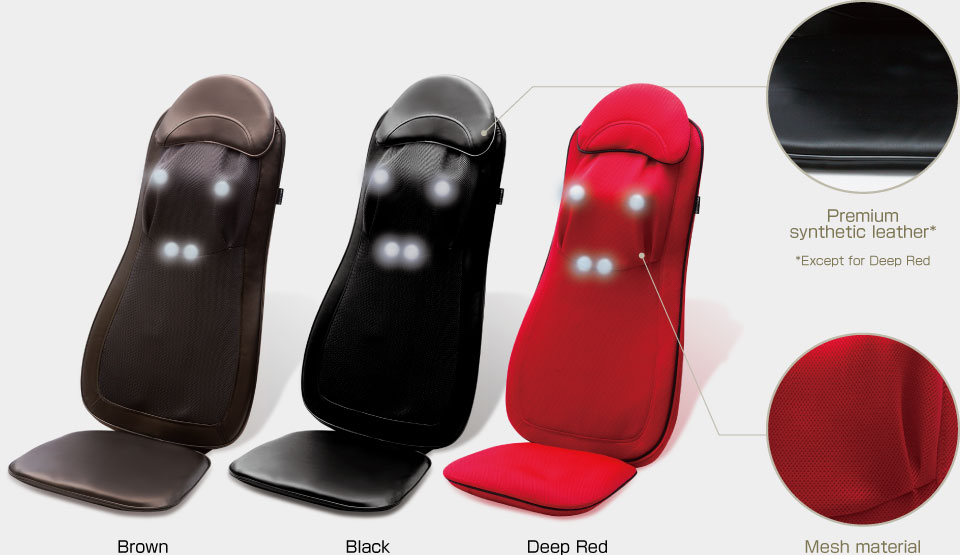 Purpose and effects
Substitute for massage. For household use.
Relieves fatigue, improves blood circulation, removes muscle fatigue, relaxes tight muscles, and relieves nerve pain and sore muscles
3D MASSAGE SEAT PREMIUM
| | |
| --- | --- |
| Product name | 3D Massage Seat Premium |
| Model | MS-002 |
| General name | Household electric massager |
| Medical device type | Controlled medical device |
| Medical device certification number | 228AHBZX00034000 |
| Power | 100 V AC / 50/60 Hz |
| Rated power consumption | 53 W |
| Timer | 20 min (±10%) |
| Dimensions | 460 mm W x 1260 mm H (back 840 mm) x 120 mm D (excluding massage roller portion) |
| Weight | 7.35 kg (without accessories) |
| Materials | ABS, Polyester, Polyurethane |
| Accessories | AC adapter, power cord, cushion, buffer sheet, user manual, warranty |
| Made in | China |
Suggested retail price
37,800 yen (tax included)
JAN
Deep Red (MS-002RD) 4580235555064
Brown (MS-002BR) 4580235555071
Black (MS-002BK) 4580235555057
Count of kneading
Speed 1: 33 ± 3 times/min
Speed 2: 40 ± 3 times/min
Speed 3: 47 ± 3 times /min
Count of tapping
Speed 1: 480 ± 10% taps/min
Speed 2: 580 ± 10% taps/min
Speed 3: 680 ± 10% taps/min
Vibration frequency
Low (1 motor): 5500 ± 10% vibrations/min
Med (2 motors): 5500 ± 10% / 5500 ± 10% vibrations/min
High (3 motors): 5500 ± 10% / 5500 ± 10% / 5500 ± 10% vibrations/min
Massage roller movement speed
Speed 1: 3.0 ± 10% cm/min
Speed 2: 4.0 ± 10% cm/min
Speed 3: 5.0 ± 10% cm/min

COLOR VARIATION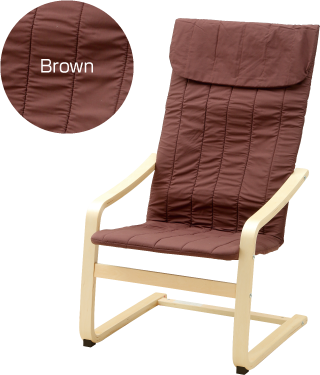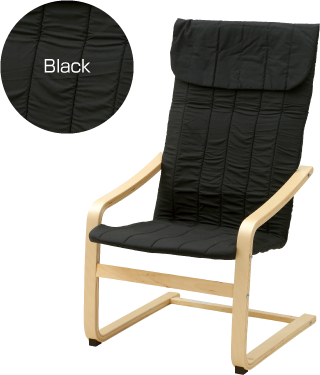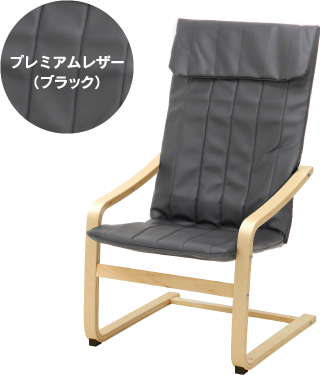 Product name
RELAX CHAIR
Model
Brown (RC-001BR) JAN: 4580235554067
Black (RC-001BK) JAN: 4580235554012
PU Black (RC-002PUBK) JAN: 4580235553862
Suggested retail price
Brown/Black: 7,700 yen (tax included)
PU Black: 8,800 yen (tax included)
Upholstery
Brown/Black: Fabric
Premium Leather (Black): Synthetic leather
Filler
Urethane foam
Frame
Bentwood plywood (birch)
Dimensions
59 cm W x 102 cm H x 77 cm D
Weight
6 kg
Made in
China
The 3D Massage Seat is sold separately.
This product is assembled by the consumer.