EPSON EB-X06 XGA 3,600 Lumens 3LCD Projector (V11H972052) (White) (EBX06)
Special Price
RM1,629.00
Regular Price
RM1,809.00
XGA resolution 1024 x 768
White & color brightness at 3,600 lumens
High contrast ratio 16,000:1
Long lamp life 12,000 hours (eco) & 6,000 (normal) lamp hours
2 years carry-in warranty
Enhance the Classroom Experience with Expressive Projections.
Get astounding classroom projection at an affordable price point with the EB-X06 projector. Featuring advanced 3LCD technology, this ultra bright, 3,600-lumen projector delivers vibrant, true-to-life images and native XGA resolution. Designed specifically for classroom environments, the EB-X06 eases engagement and enriches lesson plans with HDMI connectivity and a built-in 2 W speaker. Built to last, this durable projector provides a long lamp life of 12,000 hours in ECO Mode, plus convenient installation and positioning flexibility for easy projection from anywhere in the classroom.
3LCD technology for true-to-life Color Brightness
Native XGA resolution and 4:3 performance
Long lamp life up to 12,000 hours in ECO Mode
Easy setup and positioning flexibility HDMI connectivity
Compelling Projection
Bring images to life in the classroom with Epson's XGA resolution projectors. Projecting up to 3,600 lm brightness, you can now present your materials to the class with brighter pictures in better colours and contrasts. Leave a more convincing and stronger presentation to your peers and students with Epson's projectors today.

Auto Vertical Keystone
Saving setup time, Auto Vertical Keystone automatically detects and corrects image distortion when the foot lever is used to adjust the height of a projected image.

Horizontal Keystone Slider
With the easy-to-use sliding Horizontal Keystone Slider, screen corrections can be done quickly, easily, and accurately, even in a limited space.

Optical Zoom
Optical zoom provides the flexibility to adjust the projector's installation location while still maintaining the desired picture size and quality.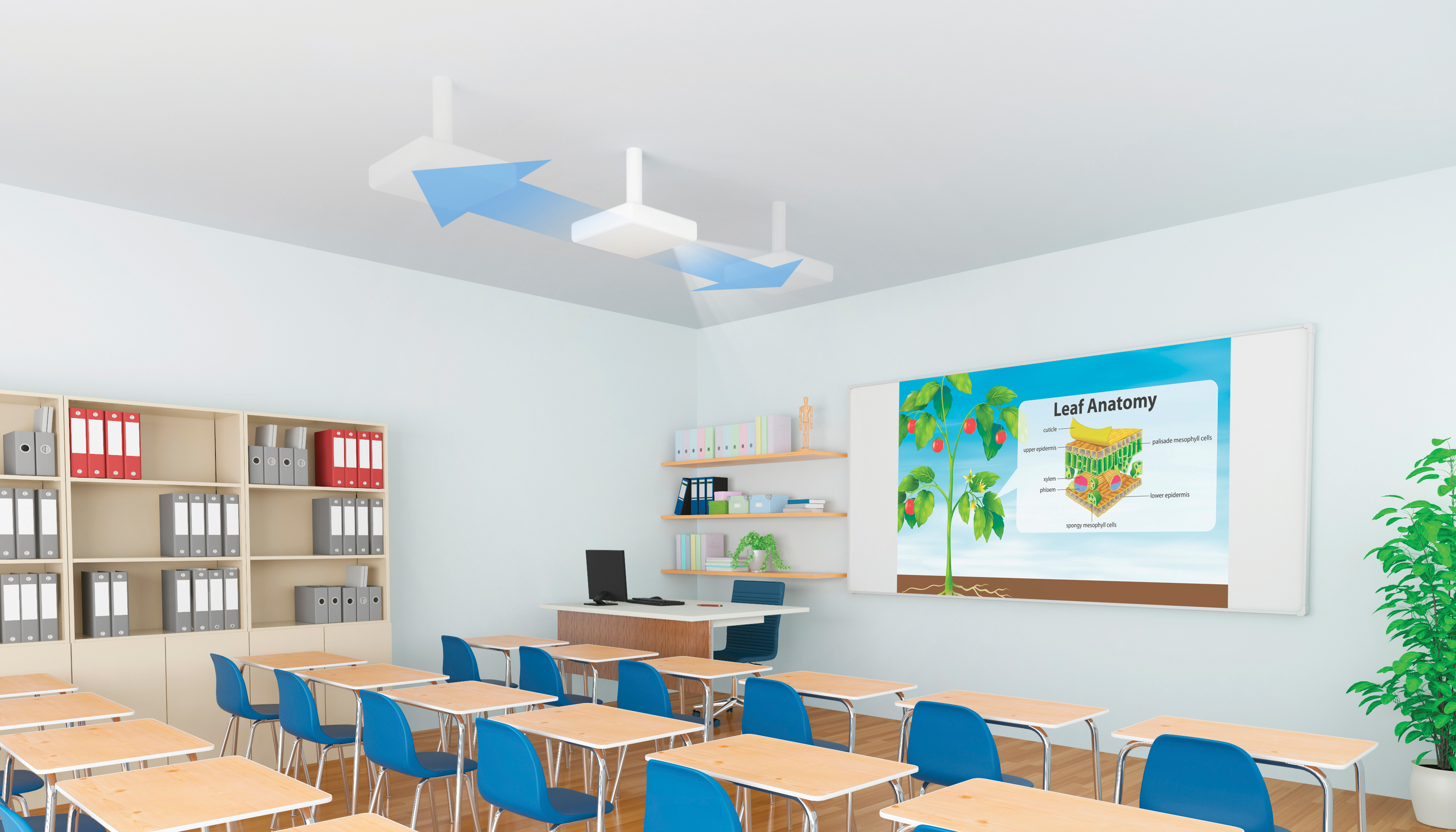 Projection Technology:
---
Projection Technology:  RGB liquid crystal shutter projection system (3LCD)
Brightness2:
---
White Light Output (Normal/Eco):  3,600 lm

Colour Light Output:  3,600 lm
Connectivity:
---
USB Interface:  USB Type A: 1 (For Wireless LAN, Firmware Update, Copy OSD Settings)
USB Type B: 1 (For Firmware Update, Copy OSD Settings)

Network:  Wireless: Optional (ELPAP11)

Analog Input:  Composite: 1 RCA.D-Sub 15pin: 1

Digital Input:  HDMI: 1 (MHL not supported)

Audio Input:  2 RCA: 1
Contrast Ratio:
---
Contrast Ratio:  16,000:1
Screen Size (Projected Distance):
---
Standard Size:  Tele: 30" to 300" [1.07 to 10.95 m], Wide: 30" to 300" [0.89 to 9.12 m]
Geometric Correction:
---
Vertical/Horizontal Keystone:  ±30° / ±30° (Auto Vertical Keystone only)

Quick Corner:  Yes
Operating Temperature:
---
Operating Temperature:  Low Altitude: 5 – 40 °C <41 – 104 °F> High Altitude: 5 – 35 °C <41 – 95 °F>, (20% – 80% Humidity, No Condensation)
Operating Altitude:
---
Operating Altitude:  0 – 3,048 m <0 – 10,000 ft>
Start-Up Period:
---
Start-Up Period:  Up to 6 seconds, Warm-up Period: 30 seconds
Cool Down Period:
---
Cool Down Period:  Instant Off
Direct Power On/Off:
---
Direct Power On/Off:  Yes
Dimension Excluding Feet (W x H x D):
---
Dimension Excluding Feet (W x H x D):  302 x 77 x 234 mm
Weight:
---
Weight:  Approx. 2.5 kg
Air Filter:
---
Type:  High Efficiency Filter

Maintenance Cycle:  6,000 / 12,000 hours*3
Fan Noise:
---
Fan Noise (Normal / Eco):  37dB / 28dB
Power:
---
Power Supply Voltage:  100 - 240 V AC ±10%, 50/60 Hz
Optional Wireless & Built In Lan Specifications:
---
Supported Speed for each Mode:  IEEE 802.11a (5GHz): 54Mbps*2

Wireless LAN Security:  Access Point: OPEN, WPA2-PSK (AES)
Optional Wireless Specifications:
---
Supported Speed for Each Mode:  IEEE 802.11b (2.4GHz): 11 Mbps*2  IEEE 802.11a (5GHz): 54Mbps*2  IEEE 802.11g (2.4GHz): 54 Mbps*2  IEEE 802.11n (2.4GHz): 72.2 Mbps*2
IEEE 802.11n (5GHz): 150 Mbps*2

Wireless LAN Security:  Infrastructure: OPEN, WPA2/WPA3-PSK, Access Point: OPEN, WPA2-PSK (AES)
Specifications of Main Parts:
---
LCD:  Native Resolution: XGA (1024 x 768), Size: 0.55" (C2fine)

Lightsource:  Type: 210W UHE, Life (Normal / Eco): 6,000 / 12,000 hours

Aspect Ratio:  4:3

Projection Lens:  F-Number: 1.49 – 1.72, Type: Optical Zoom (Manual) / Focus (Manual)
Zoom Ratio: 1 – 1.2, Throw Ratio1.48 – 1.77 (Wide to Tele)