LOGITECH Rose Christmas Combo Pack - K380 Bluetooth Keyboard + Pebble M350 Wireless Mouse (999-221225)
Special Price
RM199.00
Regular Price
RM229.00
K380 Multi-Device Bluetooth Keyboard
Bluetooth connection with 10 metres range
3 buttons channel LED indicator ;ights
Pre-installed AAA x 2 battery
1 year carry-in warranty
Pebble M350 Wireless Mouse
High precision optical tracking
1,000 dpi sensor resolution
3 buttons with mechanical scroll wheel & scroll button
Pre-installed AA battery x 1
10 metres wireless mouse range
1 year carry-in warranty
LOGITECH Rose Christmas Combo Pack (999-221225)
K380 Multi-Device Bluetooth Keyboard (Rose)

Pebble M350 Silent Wireless Mouse (Rose)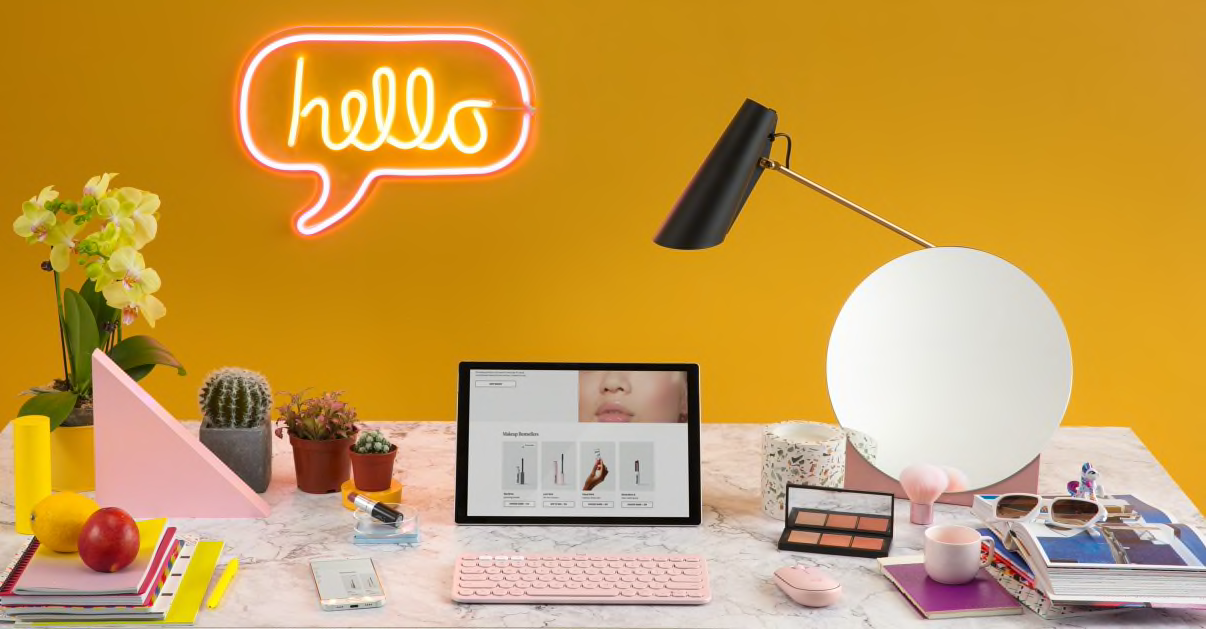 LOGITECH K380 MULTI-DEVICE BLUETOOTH KEYBOARD
Minimalist. Modern. Versatile
SLIM & BEAUTIFUL
New colors, new you. Own your space with a Rose, Off-White or Graphite keyboard that matches your favorite accessories. Your desk setup? It's now a design statement.
YOUR SPACE. ANYWHERE.
Minimalist, modern—and mobile. The slim, lightweight K380 Multi-Device keyboard is outfitted with Bluetooth® so you can multitask at home, on the go, or at your favorite cafe. Type on a laptop, phone or tablet and own your space wherever you go.
TYPE ON ANYTHING
Any device, any OS. K380 Multi-Device connects to all Bluetooth wireless devices with external keyboard support, so you can work seamlessly with Windows®, macOS, iPadOS, Chrome OS™, Android™, iOS, and even Apple TV.   
It automatically maps keys, remembers shortcuts, and gives you a familiar layout for your preferred platform.
TYPE. EASY-SWITCH. TYPE.
Connect up to three devices—even with different operating systems— and switch between them with a tap. So you can type, switch, and keep on typing.
COMFORTABLE LAPTOP-STYLE TYPING
All the keys in a tight design. The extra-small footprint lets you place your mouse closer for less arm reaching, more comfort, and better body posture. Scooped, low-profile scissor keys love the shape of your fingertips, offering a fluid, quiet, familiar laptop-like typing experience. Plus, it fits in your bag.
WORRY-FREE 2-YEAR BATTERY LIFE
Two years, two AAA alkaline batteries—pre-installed. So you can take pleasure in forgetting all about it.
Weight: 423 g including batteries

 

Bluetooth enabled device 

1

An internet connection (for optional software download)

 

Connection Type: Bluetooth Classic (3.0)

Software support

Logitech Options for Windows (Windows 7, 8, 10 or later)
Logitech Options for Mac (OS X 10.8 or later)
Logitech Flow

 

Indicator Lights (LED): Battery LED, 3 Bluetooth channel LEDs

Special Keys: Hotkeys (Home, Back, App-switch, Contextual Menu), Easy-Switch™

Connect / Power: On/Off Switch

 

Keyboard
2 AAA batteries (pre-installed)
User documentation

 

1-Year Limited Hardware Warranty

 

Rose: 

920-009579

Off-white: 

920-009580

Blue: 

920-007597

Black: 

920-007596
LOGITECH PEBBLE M350 WIRELESS MOUSE
Minimalist. Modern. Silent.
OWN. YOUR. SPACE.
Make any space minimalist, modern, and silent with Logitech Pebble M350 – the portable mouse that fits your curated lifestyle and goes wherever life takes you. The smooth organic shape fits in your pocket, bag, and feels great in your hand. With silent clicking and scrolling, you can get in the flow without disturbing anyone around you.
MODERN, SLIM, AND BEAUTIFUL
Logitech Pebble M350 modern design fits your curated lifestyle, accents your desk setup, and is slim enough to toss in your bag and bring to the coffee shop.
CLICK AND SCROLL IN SILENCE
Work at home, in a cafe, or library without disturbing anyone around you. You'll get the same click feel you love, but make about 90% less noise.1Sound level comparison between Logitech Pebble M350 and Logitech M170. Left click dBA measured by an independent lab at 1m. Even the wide rubber scroll wheel glides in silence.
CONNECT THE WAY YOU LIKE
Connect to your computer, laptop or tablet via Bluetooth® or the tiny USB receiver -stored in the magnetic cover of the mouse- and never worry about annoying drop-offs or lag up to a 10m range2Wireless range may vary based on environmental and computing conditions. -Windows®, macOS, Chrome OS™, iPadOS.
ORGANIC SHAPE, NATURAL FIT
Logitech Pebble M350 has been designed to be extra slim, while still fitting naturally in the palm of your hand. The soft rounded sides are so comfortable, you'll never want to let it go.
THE RIGHT COLOR FOR YOU
Choose Logitech Pebble M350 in off-white, graphite, eucalyptus green, blue or rose pink to perfectly match the rest of your accessories.
WORK WHEREVER LIFE TAKES YOU
Logitech Pebble M350 tracks fast and accurately whether you use it on a table at your favorite coffee shop or directly on your bed covers.
GO LONGER BETWEEN BATTERIES
18-month battery3Battery life may vary based on user and computing conditions. Battery included. life means you don't have to worry about losing power. Logitech Pebble M350 automatically goes into battery-saving sleep mode when you're taking a break.
Mouse Dimensions

Height: 107 mm
Width: 59 mm
Depth: 26.5 mm
Weight (with batteries): 100 g

 

Nano receiver

Height: 14.4 mm
Width: 18.7 mm
Depth: 6.1 mm
Weight: 1.8 g

 

Windows | macOS | iPadOS | Chrome OS | Linux® | Certified Works With Chromebook | Works with Surface™

 

Receiver

Required : Available USB port
Windows 10,11 or later
macOS 10.14 or later
Chrome OS, Certified Works With Chromebook
Linux Kernel 2.6+

 

Bluetooth

Required: Bluetooth low energy technology
Windows 10,11 or later
macOS 10.14 or later
Chrome OS
Android™ 7 or later
iPadOS 13.4 or later

 

Sensor technology: High Precision Optical Tracking

Sensor resolution: 1000 dpi

Scroll Wheel: Yes- Mechanical

Scroll Buttons: Middle Button

Unifying ready mouse: Yes

Unifying ready receiver: No

Battery type: 1 AA pre-installed battery

Wireless operating distance: 10 m 

4

Wireless technology: Bluetooth Low Energy Technology

 

Wireless Mouse
Nano Receiver
1 AA battery (pre-installed)
User documentation

 

1-Year Limited Hardware Warranty

 

Graphite: 

910-005602

Rose: 

910-005601

Eucalyptus: 

910-005604

Off-white: 

910-005600

Blue Grey: 

910-005603